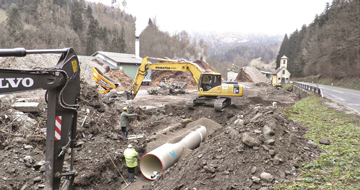 Green Power with HOBAS Hydropower Pipelines – Clean energy from the power station Ebriachbach
1270 water bodies, 8000 kilometers of rivers and numerous mineral springs make Carinthia not only the most water abundant region of Austria – it also ranks among the leading provinces for electricity from sustainable sources. Approximately 540 hydropower plants cover around 90 percent of the country's province's total electricity demand.
Power Plant Creek Ebriachbach
The hydropower of the Ebriachbach Creek in the health resort Bad Eisenkappel is used to produce energy in the identically named power plant. The water is lead from the spring to the power house through a 2660 m long penstock, which has been realized with HOBAS GRP Pipes. The advantages of the HOBAS Angular Cut System were a determining factor for this choice. Thanks to the angular cut pipe segments there was no need for costly fittings and the pipes could be laid very flexibly in accordance with the planned track. HOBAS Experts provided help and advice during the installation of the HOBAS Penstock DN 1200, PN 6, SN 10000. The power plant Ebriachbach was put into service in autumn 2012 and has a capacity of 600 kW.
https://www.amiblu.com/wp-content/uploads/HOBAS_Austria_Hydropower_Pipeline_Ebriachbach_01.jpg
190
360
Bernd Burger
/wp-content/uploads/logo-amiblu-white.png
Bernd Burger
2018-01-16 00:00:00
2018-01-16 00:00:00
Green Power with HOBAS Hydropower Pipelines – Clean energy from the power station Ebriachbach
More information about this application
PROJECT DETAILS
Project ID: [7714]
Country:
Austria
City:
Ebriach
Year:
2011
Application:
Hydropower
Installation:
Open Trench
Technology:
Hobas
Total Length:
2660 m
Nominal Diameter DN:
1200 mm
Nominal Pressure PN:
6 bar
Nominal Stiffness SN:
10000 N/m2