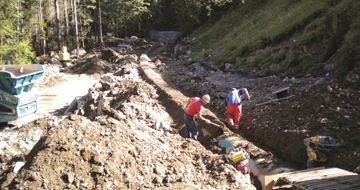 Green Power with HOBAS Hydropower Pipelines – Clean energy from the power station NockEnergie Glanzer, AT
1270 water bodies, 8000 kilometers of rivers and numerous mineral springs make Carinthia not only the most water abundant region of Austria – it also ranks among the leading provinces for electricity from sustainable sources. Approximately 540 hydropower plants cover around 90 percent of the country's province's total electricity demand.
Power Plant NockEnergie Glanzer
An impressive hydropower project implemented with HOBAS GRP Pipes is the power plant NockEnergie Glanzer in the village of Radenthein. Gerald Glanzer and his son David built a small hydropower plant right on their doorstep at the Kaningbach Creek. It consists of a Tyrolean weir, used to channel the Kaningbach Creek, as well as a sand trap and a screening system. The connected 1400 m long HOBAS Hydropower Pipeline (DN 900, SN 10000, PN 6-14) leads to the powerhouse with several curves that were realized by means of angular deflection in the couplings. At a head of 106 m, the average flow rate is 1.4 m³ per second. Each year, 4 Million kWh of energy will be produced and fed into the KELAG power grid – one of Austria's leading energy suppliers.
https://www.amiblu.com/wp-content/uploads/HOBAS_Austria_Hydropower_Pipeline_Radenthein_NockEnergie_Glanzer_GmbH_01.jpg
190
360
Bernd Burger
/wp-content/uploads/logo-amiblu-white.png
Bernd Burger
2018-01-16 00:00:00
2018-01-16 00:00:00
Green Power with HOBAS Hydropower Pipelines – Clean energy from the power station NockEnergie Glanzer, AT
More information about this application
PROJECT DETAILS
Project ID: [7334]
Country:
Austria
City:
Radenthein
Year:
2012
Application:
Hydropower
Installation:
Open Trench
Technology:
Hobas
Total Length:
1400 m
Nominal Diameter DN:
900 mm
Nominal Pressure PN:
6 | 14 bar
Nominal Stiffness SN:
10000 N/m2