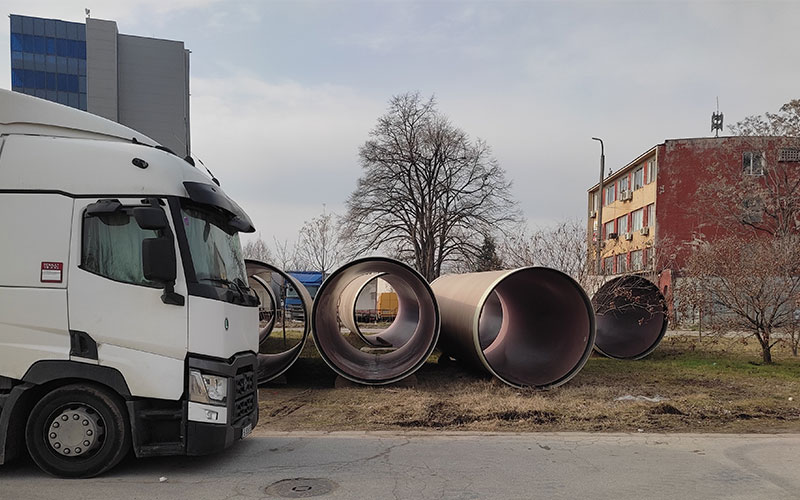 Plovdiv is ready for the future – reconstruction of the sewer network in Bulgaria
The first dig of one of the largest construction sites in Plovdiv was made in November 2021 as a part of the Municipality Water Project. The construction activities include the reconstruction of the sewerage and water supply network on the boulevards "Danube" and "Brezovsko Shosse".
Amiblu pipes play a decisive role in the project: about 1.7 km of DN 2500 mm GRP sewer pipes from Amiblu Poland and another 1,16 km of Amiblu GRP pipes DN 1000-2000 incl. fittings from Amiblu Romania will be installed. The pipes' excellent hydraulic properties, their watertight couplings as well as the products' long lifetime were some of the numerous advantages that confirmed the investor's choice.
Since the storage area at the construction site is limited, the pipes and fittings need to be delivered just-in-time. This is possible thanks to the close and well-functioning cooperation between the pipe supplier Amiblu and the construction company and client PIMK Ltd, the biggest transport and logistics company in Bulgaria.
To avoid any traffic disruptions on some of the busiest streets in Plovdiv, construction works will be carried out in stages and should be finished at the beginning of 2023.
https://www.amiblu.com/wp-content/uploads/Amiblu-pipes-for-sewer-collector-Plovdiv-Bulgaria.jpg
500
800
Sabrina Waldner
/wp-content/uploads/logo-amiblu-white.png
Sabrina Waldner
2022-09-12 12:49:02
2022-09-12 12:49:02
Plovdiv is ready for the future – reconstruction of the sewer network in Bulgaria
More information about this application
PROJECT DETAILS
| | |
| --- | --- |
| Country: | Bulgaria |
| City: | Plovdiv |
| Year: | 2022-2023 |
| Application: | Sewer |
| Installation: | Open Trench |
| Technology: | Hobas |
| Total Length: | 2896 m |
| Nominal Diameter DN: | 1000 | 1200 | 2000 | 2500 mm |
| Nominal Pressure PN: | 1 bar |
| Consultant: | Mark 98 |
| Contractor: | PIMK Ltd. |
| Client: | PIMK Ltd. |