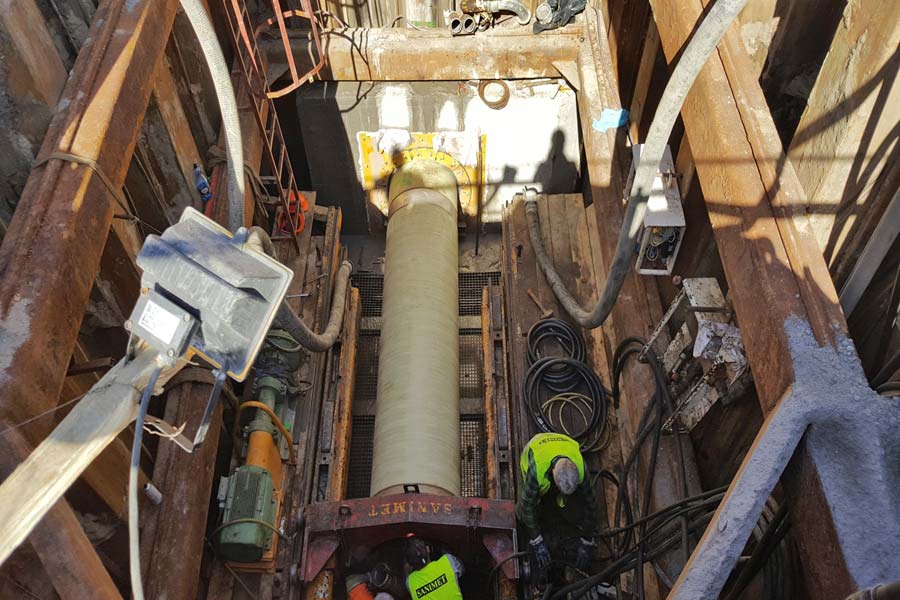 Record sewer jacking with Flowtite pipes in Poznań
The condition of the existing sewer collector "Junikowski" in the Polish city of Poznań had deteriorated over the years. On the section from Samotna street to Głogowska street it could no longer handle the growing demands. Since an expansion was no option, it had to be renewed. Amiblu Poland produced and supplied the required pipes for the project: 505 m jacking pipes OD 1499 / SN 32 000 and 80 000, 111 m jacking pipes OD 1720 / SN 50 000, and 3502 m of pressure jacking pipes OD 750 and 850 / PN 10 in stiffnesses from SN 80 000 to 200 000. The pressure jacking part is the longest ever realized with Flowtite pressure pipes PN 10. 706 m gravity pipes DN 800, DN 1000 and DN 1400 / SN 10 000 for open trench installation as well as a set of GRP wells were also supplied and installed. The project started in December 2016 and was successfully finished in June 2018.
Rekordvortrieb von GFK-Kanalrohren in Poznań
Der Kanalsammler "Junikowski" im polnischen Poznań befand sich in einem schlechten Zustand und konnte im Teilabschnitt Samotna-Straße bis Głogowska-Straße den wachsenden Anforderungen nicht mehr gerecht werden. Da ein Ausbau nicht möglich war, musste erneuert werden. Amiblu Polen produzierte dafür die erforderlichen Rohre: 505 m Vortriebsrohre OD 1499, SN 32.000 und 80.000, 111 m Vortriebsrohre OD 1720, SN 50.000 und 3502 m Vortriebsdruckrohre OD 750 und 850, PN 10 in Steifigkeiten von SN 80.000 bis 200.000 – die bisher längste Strecke die je mit Flowtite-Vortriebsdruckrohren PN 10 realisiert wurde. Für eine offene Verlegung wurden zusätzlich 706 m DN 800/1000 /1400 GFK-Rohre SN 10.000, PN 1 sowie eine Reihe von GFK-Schächten geliefert. Das Projekt begann im Dezember 2016 und wurde im Juni 2018 erfolgreich abgeschlossen.
https://www.amiblu.com/wp-content/uploads/Flowtite-pressure-pipe-jacking-Junikowski-sewer.jpg
600
900
Bernd Burger
/wp-content/uploads/logo-amiblu-white.png
Bernd Burger
2018-11-06 00:00:00
2023-06-13 10:02:33
Record sewer jacking with Flowtite pipes in Poznań
More information about this application
PROJECT DETAILS
Project ID: [34818]
Country:
Poland
City:
Poznań
Year:
2016-2018
Application:
Sewer
Installation:
Microtunneling
Technology:
Flowtite
Total Length:
4118 (jacking) 706 (open trench) m
Nominal Diameter DN:
1499 | 1720 | 850 | 1400 mm
Nominal Pressure PN:
1 | 10 bar
Nominal Stiffness SN:
32000 | 80000 | 50000 | 10000 N/m2